Our equipment, manufactured to exacting quality standards, is exported world-wide
Established in 1790, Griffin-Woodhouse has a distinguished history and globally acknowledged as a leader in design, manufacture and supply of offshore mooring equipment. We work closely with clients and offer a technical advisory service as standard under our contract review process.
Our quality policy includes a commitment to exceed expectations through a culture of quality, by building strong relationships, being responsive to customer needs and communicating effectively.
The implementation of ISO 9001:2015 is a strategic decision based on business management, process improvement and client reassurance however, the company has maintained a robust quality system since the early 1950s.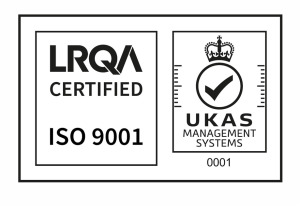 Exceeding Expectations
What our customers say…
"We would like to thank you for the excellent and flawless execution of this project by your esteemed company. The timely delivery of the chains and accessories, especially under such a tight schedule, is the result of your most professional approach and it has been a pleasure co-operating with you."
"The contract review process is run extremely well. Materials are always supplied to strict quality controls and meet our requirements totally. Additional requests, especially during the COVID-19 pandemic, are always met. Any problems are always dealt with immediately and consequently we do not experience any issues. I am not sure GWEC can improve their performance, we receive an excellent service with no complaints."
"GWEC satisfied all requirements, supplied products are excellent in quality and their communication process is good and timely."
"In dealing with Griffin-Woodhouse I have always found the company to be responsive to our requirements on all fronts."
"Supply of special guide shackles was particularly pleasing, they exceeded our expectations."
"Griffin-Woodhouse inspect our drawings for conformity and suitability and ensure that materials pass both their own rigorous inspections and Classification Society Standards."
"We would like to express our sincere appreciation for your kind corporation & fullest support extended on this order. Looking forward to continuing our business relationship with your esteemed company in future."
The Queen's Awards for Enterprise are the UK's most prestigious awards for business success. The 'International Trade' award recognises companies that are able to demonstrate substantial growth in overseas earnings and commercial success, to levels that are outstanding for the goods or services concerned and for the size of the applicant's operations.
Having served the domestic market until the early 1970s Griffin-Woodhouse set about developing a global presence and today world-wide exports account for more than 70% of turnover. In recognition of its outstanding success Her Majesty Queen Elizabeth II bestowed her Award for Export Achievement on Griffin-Woodhouse for the first time in 1983 and again in 1997 and 1998. This honour is limited to few British companies, of which significantly fewer can boast having been recognised on three separate occasions.
The Griffin-Woodhouse trademark was registered in the UK in 1947 and the GWEC brand is recognised world-wide as a mark of British quality. The acronym stands for 'Griffin-Woodhouse Electric Cable' but don't be confused, we do indeed manufacture chain which has historically been referred to as 'cable'. The 'electric' component refers to the advent of a flash-butt welding method introduced less than 100 years ago meaning, for the majority of our history chain has been welded or 'forged' by hand.
The company's logo includes a hand drawing depicting GWEC's unique 'Integral Stud Link Chain' invented by John Timmington in 1967, but which is sadly no longer manufactured by us. The logo was updated in 2021 to present a contemporary feel, adding depth through subtle modifications whilst remaining true to the original.
HOWEVER AND WHEREVER YOU NEED US
Griffin-Woodhouse has a truly world-wide presence. Whilst our products are exported to more than 50 countries, local support is the foundation of our business. Therefore, GWEC's agents are carefully selected to possess the knowledge, experience and ability to support both us and you.
If you would like an introduction to one of our local representatives, need expert advice, want solutions tailored to your needs or merely wish to source products most suited to your budget please contact us for further information.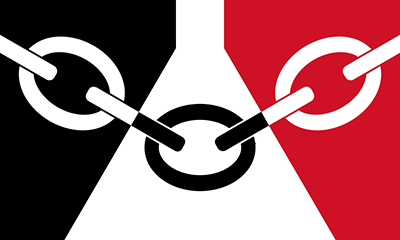 Griffin-Woodhouse has always been located in the heart of the 'Black Country', an area to the west of Birmingham synonymous with the birth of the Industrial Revolution in Britain around 1760. The region today comprises four Metropolitan District Council areas including Sandwell, in which Cradley Heath is located.
The Black Country gained its name in the mid-nineteenth century due to the smoke from many thousands of ironworking foundries, forges and the abundance of coal in shallow, 30ft. thick seams.
The region's flag features a chain to represent its manufacturing heritage whilst the white shape in the background recalls the iconic glass cones and iron furnaces that featured in the architectural landscape. The red and black colours recall the famous description of the Black Country by Elihu Burrit, American Consul to Birmingham in 1862, that it was "black by day and red by night" owing to the smoke and fires of industry.
Other authors, from Charles Dickens to William Shenstone refer to the intensity of manufacturing in the Black Country and its effect on the landscape and its people.
Birth of British Chain Manufacturing
The origins of Griffin-Woodhouse date back to the early Industrial Revolution...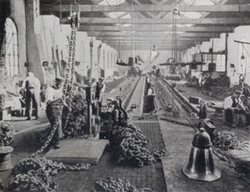 1790
1790 - J Wood Aston founded firm making chain in Cradley Heath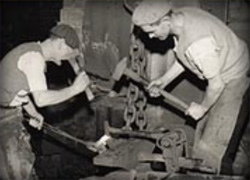 1860
1860 - Emmanuel Woodhouse founded Woodhouse Bros. making chain in Cradley Heath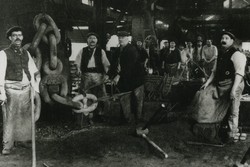 1942
1942 - J Wood Aston's firm purchased by William Griffin

1915
1915 - Company registered as William Griffin & Sons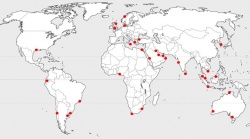 1942
1942 - William Griffin & Sons and Woodhouse Bros. join forces during World War II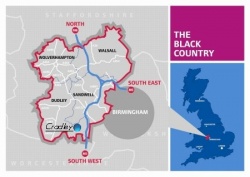 1944
1944 - Company registered as Griffin-Woodhouse Chain Cables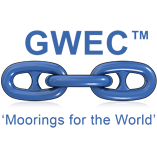 1947
1947 - GWEC trademark registered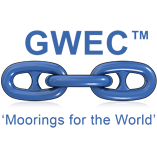 1961
1961 - Purchase of local shackle manufacturer G & H.C. Hackett Bros.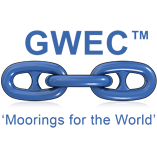 1965
1965 - Company registered as Griffin-Woodhouse Limited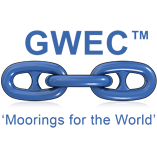 1968
1968 - Extensive refurbishment of Woods Lane site in Cradley Heath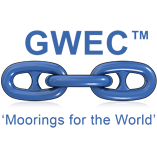 1972
1972 - Company start exporting overseas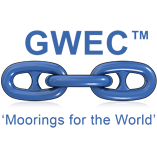 1983
1983 - Queen's Award for Export Achievement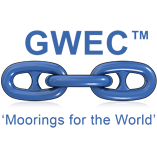 1988
1988 - Griffin-Woodhouse acquired exclusively by the Timmington family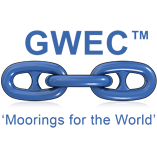 1997
1997 - Queen's Award for Export Achievement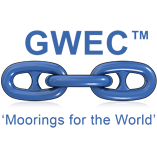 1998
1998 - Queen's Award for Export Achievement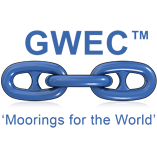 2015
2015 - Joint venture established with Qingdao Anchor Chain